here are 5 reasons why
This Sustainable Fish Oil alternative is...
Better than your regular supplements.
May 12th, 2022 - 4 min. 20 sec. read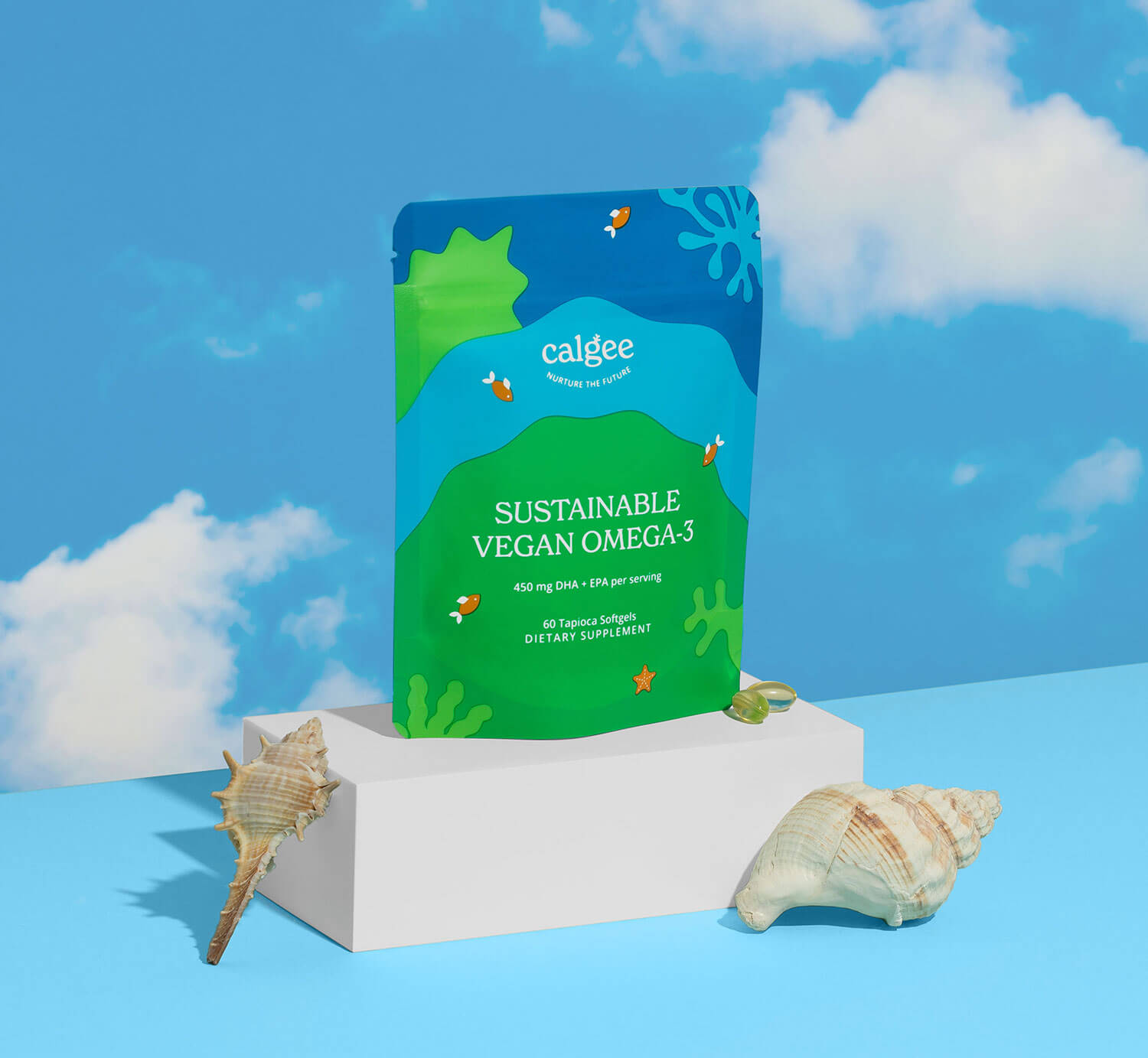 Boost your health naturally, without guilt & side effects!
"It's time to take your vitamins", mom would say, calling you to breakfast. It was time for your daily dose of Vitamin C, D, multivitamins, and of course, your daily fish oil. Since childhood, we've accepted fish oils as an important part of our diet.
But we've failed to question one thing:
Where do our supplements actually come from?
A recent book by Paul Greenberg outlines the significant environmental damage caused by fish oil production. Fish oil is customarily extracted from forage or baitfish such as anchovies and krill, with about 50 fish being killed for each bottle of supplements.
This destroys the middlemen in the marine ecosystem, resulting in a reduction of marine wildlife like humpback whales and puffins. And this doesn't include the amount of plastic used for packaging and transportation – most of which ends back up in the ocean.
But what if you could get your Omega-3 intake without negatively impacting the environment?
This is where Calgee's plant-based alternative comes into play.
Each easy-to-swallow soft gel brings you an Omega-3 that's derived from the same algae that fish consume, but without killing any fish in the process. The result? You get an Omega-3 alternative that's finally great for both the environment and your gut.
Here are 5 reasons Calgee Sustainable Omega-3 is better than traditional fish supplements.*
Instead of using fish, Calgee's Omega-3 Supplement is 100% plant-based. It's produced from algae oil grown in 
a controlled indoor environment.

This environment is strictly monitored to maintain a minimal environmental footprint whilst preventing contamination. You'd be surprised how many marine products are contaminated!

The algae itself is then processed with clean water, without any chemicals or solvents. This makes it the purest and only single-sourced EPA & DHA algae oil without carrageenan.*
2 Eliminates Risk
of Inflammation*
There's nothing worse than taking Omega-3 supplements only to spend the morning feeling uncomfortable. This discomfort is often caused by carrageenan used in vegan soft gels.

Carrageenan is an extract from seaweed that's commonly used as a gelling agent to keep vegan capsules together. Although seaweed is a popular trend, it's not all sunshine and rainbows.

Several recent studies have shown that carrageenan can cause inflammation, making it uncomfortable for many people who take vegan supplements.

Calgee's Omega-3 Supplement is completely free from carrageenans. There is no risk of inflammation and you can take the supplement worry-free, without having to endure uncomfortable mornings.*
3 Has 85% More EPA & DHA Fatty Acids
Everyone knows fish oil has a range of benefits, but how much do you actually need for them to take effect?

Unlike traditional Omega-3 supplements that offer the bare minimum in terms of effectiveness, Calgee's Omega-3 is 85% more potent. It contains nearly twice as much EPA and DHA fatty acids as a standard fish oil serving.

EPA and DHA are known to have a range of benefits including lowering the risk of heart disease, decreasing blood pressure, and slowing the development of Alzheimer's disease.*
4 Reduces Demand
for Overfishing
According to statistics from the Food and Agriculture Organization (FAO), around 2 TRILLION fish are killed a year. That's a lot of fish!

Many of these fish are caught using trawlers designed to release nets across the ocean floor. The result? Marine ecosystems being destroyed in minutes.

Not only is this unsustainable, but it could result in the collapse of all marine life. By reducing the demand for fishing, we can significantly reduce the impact of overfishing.

Calgee's Omega-3 Supplement is made without harming marine life. It's then packaged in recycled materials, helping reduce the carbon footprint from production to delivery.
5 Helps Support Your Natural Immunity*
Let's be honest: since the lockdown, we've all been getting sick a little more than usual. It seems like every cold, flu, and virus is out to get us. Luckily, Omega-3 can help us fight back.

Research has shown that the anti-inflammatory properties of Omega-3 help support our immune system.*

This helps us fight back against pesky colds and allows us to get on with our day without sneezing every 5 minutes. And don't even get us started on coughing!

Calgee's Sustainable Omega-3 Supplement has been used by thousands of people around the world. It supplies all the benefits of traditional Omega-3 supplements and more without the associated problems.*

By transitioning to an eco-friendly alternative, you're investing in your health and the future of our planet. After all, there's no way our planet can stay healthy with 2 trillion fish killed in our oceans each year!
but wait, there are...
4 More Reasons Why You'll Love Calgee's Omega-3 Supplement
30-Day Money-Back Guarantee
1% of Sales Go to Environmental Charities
Eco-Friendly Packaging
Scientifically Supported Benefits
Happy Customers
These heroes are saving the planet one fish at a time.
Get Your 10% Discount!
Make the transition to a healthier life and a happier planet today and create a better future for tomorrow.
Try Calgee's Sustainable Omega-3 now and save 10% on your first order.
Helps with Inflammation & Stiffness*
Reduces Anxiety & Lifts Mood*
Improves Memory & Brain Function*
85% more EPA & DHA per saving than fish oil
Sustainably harvested from nutrient-rich algae
Save 10% on your first order.